Managed Detection & Response
Customized, rapid threat detection and response services for any environment, 24/7.


5x Recognized as a Top MDR Vendor

Recognized as a MDR Strong Performer

Recognized as a MDR Champion
MDR Services That Deliver Security Outcomes
Level up your threat detection and response to grow resilience and reduce risk. Personalization, contextualization, and complete visibility – key to our Managed Detection and Response services – introduce the idea of ultra-relevance.
Relevance means we understand what we're protecting for you and what we're protecting you from. It means we understand what known and emerging threats are most likely to target your business. And it means we will respond in the most rapid and effective way – either with you, or on your behalf.
Talk to us
Always-On, Proactive Threat Detection & Response.
Monitor

Outsource the burden of day-to-day security monitoring and security technology management to our 24/7 CFC team.

Find out more >>

Detect

Get rapid, accurate threat detection with use case scenarios and detection methodology tailored to your unique environment and threat model.

Find out more >>

Hunt

To catch a human attacker, you need human expertise – our seasoned threat hunters are skilled at unearthing unknown threats.

Find out more >>

Respond

Receive prioritized, practical advice on verified incidents and hands-on support to contain the threat and remediate.

Find out more >>
99.9

%

reduction in noise; we only escalate the incidents that matter

4

minutes average to begin triaging security alerts

10

minutes average to escalate human validated incidents after initial triage
Our MDR Services
Whatever Your Environment, Our MDR Services, Have You Covered
MDR ONE

Not all organizations are set up to deal with a large-scale, complex MDR deployment. For those organizations focused on outcomes and faster time-to-value, MDR ONE is a turnkey solution, delivering world-class threat detection and response, 24/7 for on-premise IT, cloud, and endpoint environments.

Learn more >>

MDR for IT

We process relevant security logs and network data either natively or via your SIEM, and automatically fuse them with threat intelligence to create rich contextualization. Context and a deep understanding of your threat model enable us to hunt, detect, and respond faster to threats and provide targeted guidance on how to respond.

Learn more >>

MDR for Cloud

As you move to cloud computing, you need to adapt your security policies and monitoring in order to protect data and workloads. Our native MDR service for cloud infrastructure and M365 cloud applications ingests, processes, and examines cloud security events and configuration errors in near real time.

Learn more >>

MDR for Endpoints

Endpoints – more often than not – are the entry point for cyberattacks. MDR for endpoints uses threat detection, prevention, and deception technologies to rapidly detect and block the threats that evade traditional security controls. MDR for endpoints also provides constantly visibility, fast onboarding, and enable you to carry out digital forensic investigations remotely.

Learn more >>

MDR for OT/ICS Networks

Reduce the attack surface of blended IT/OT environments with a complete and unique approach tailored to providing security visibility into OT/ICS networks. Our MDR service for OT/ICS networks helps ensure visibility into advanced threats and identifies weak points in your environment before costly exploits by threat actors, without causing downtime or disrupting critical operations.

Learn more >>
Managed Detection and Response Services
Continuous risk reduction that elevates your security posture
Gain Complete Threat Visibility

You can't protect what you can't see. We remove blind spots, across any environment: on-premises, cloud, and OT/ICS networks.

Level Up Threat Detection

Get informed rapidly about the threats that matter. We fuse relevant threat intel and business context with expert analysis to identify and validate current and emerging threats, 24x7.

Minimize the Impact of Breach

Contextualization and visibility drive rapid and effective containment and remediation.

Ease the Burden on Security Team

Extend, inform, and empower your security teams with always-on threat detection and response expertise that provides high-touch, personalized support.

Predict and Reduce costs

Regain control over your security budget. Kudelski Security MDR services are modular and provide flexibility and cost predictability.

Ensure Compliance

Ensure regulatory compliance with a strategy that integrates a proactive approach and is tailored to your business risk profile.
Intelligence in Action
Kudelski Security MDR Services – Powered by the FusionDetect™ Platform
Collect

Aggregate, normalize and enrich security-relevant data across your environment.

1

Analyze

Cross correlate & apply indicators of attack to map attacker behavior to MITRE ATT&CK techniques.

2

Investigate

CFC analysts and threat hunters use FusionDetect™ to triage, investigate and validate identified threats & breaches.

3

Respond

Automate initial response actions, accelerate escalation with clear remediation guidance & hands-on support.

4
Collect

Aggregate, normalize and enrich security-relevant data across your environment.

1

Analyze

Cross correlate & apply indicators of attack to map attacker behavior to MITRE ATT&CK techniques.

2

Investigate

CFC analysts and threat hunters use FusionDetect™ to triage, investigate and validate identified threats & breaches.

3

Respond

Automate initial response actions, accelerate escalation with clear remediation guidance & hands-on support.

4
Not All MDR Providers Are Made Equal
Endpoint, Cloud, OT/ICS Telemetry

Industry-leading and proprietary solutions, combined with our use-case framework, enable our analysists to provide deeper insights and more accurate escalations.

Find More >>

Methodologies That Deliver Real Insights and Impact

We leverage the MITRE ATT&CK ® matrix and our use-case framework to guide your security visibility journey, evaluate our coverage on your behalf, and stay ahead of attacker tactics and techniques.

Find More >>

Committed to Outcomes

We have a 99% client retention rate because we deliver what matters: We contextualize the threats, reduce breach detection time, lessen the impact of breaches, and help you continuously mature your security posture.

Find More >>

DevSecOps Expertise & Research

We invest millions annually in research, development, and testing to ensure clients have access to the most in-depth and effective security services available.

Find More >>
The Kudelski Security MSS Client Portal
Full-spectrum visibility and actionable advice on the threats that matter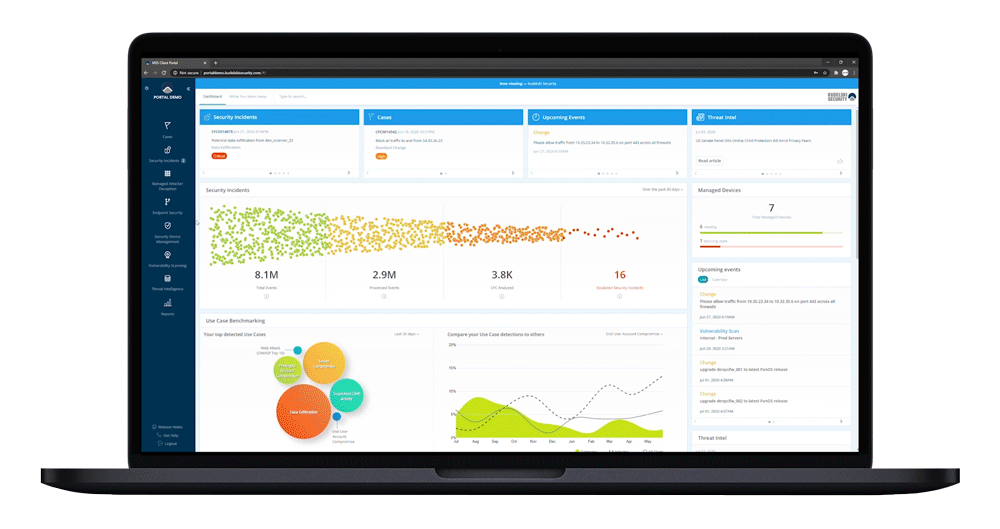 1

Eliminate Security Blind Spots

Gain visibility into threats across IT networks, endpoints, cloud, OT/ICS environments.

2

Avoid Alert Fatigue

Get actionable, prioritized advice to rapidly address the real threats.

3

Gain Control

Access a user-friendly portal for instant dashboards, reports, and metrics – 24x7.

4

Extend Your Team

Access our analysts at any time via the MSS Client Portal.

5

Respond Faster

We can detect advanced and unknown threats in minutes, not days
Request a demo
Frequently Asked Questions
What is Managed Detection and Response?

Managed Detection and Response is an approach to security that leverages security experts, innovative tools, and global methodologies and intelligence to provide the highest-level of monitoring, alerting, and response, as well as onboarding and incident response, to clients. MDR (Managed Detection and Response) categorically focuses on delivering not only rapid identification and response, but also proactive threat prevention and insight into the advanced field of security threats. Through the level of business and threat intelligence, MDR services can provide a faster onboarding than the traditional MSS approaches and deliver a higher level of integrated Incident Response to clients.

What is Kudelski Security's approach to MDR?

Kudelski Security has built our MDR services on ensuring high-touch, 24/7 support based on a client's business and risk profile. Validated security incidents are escalated rapidly using our proven Use Case Framework. Our Cyber Fusion Center analysts use contextualized data and threat intelligence to provide a comprehensive story to our clients. Rather than escalating a threat on a one-for-one basis, our approach is to leverage the fusion model of bringing together personalized, unified MDR services with rich contextualization to help our client understand why a threat is important to them and to guide them through the process with actionable advice and active response techniques.

What benefits does the Kudelski Security Managed Detection and Response service provide?

The Kudelski Security approach to Managed Detection and Response focuses on several key outcomes:

High-touch, personalized support from our 24/7 CFC analysts informs and empowers client security teams
Threats identified and validated in minutes, thanks to our methodology that fuses information about attacker objectives, techniques, and infrastructure with business context delivered by expert analysts
Speed of detection translates directly to containment of threats that may disrupt business
Flexible, predictable MDR services help predict and reduce costs by optimizing budgets
Full transparency for our clients through our award-winning Client Portal
Deliver continuous improvements and risk reduction that elevate security posture over time

What is the FusionDetect™ platform?

FusionDetect™ is Kudelski Security's cloud-native, security analytics and response platform built to support our Managed Detection and Response services. Driving more effective threat detection, prevention, and response, FusionDetect™ leverages our Use Case Framework and the MITRE ATT&CK® Framework to create tailored use case scenarios and detection rules. Kudelski Security is committed to identifying what threats matter and what the best course of remediation is for each unique client.

How does Kudelski Security triage and respond to alerts?

When Kudelski Security becomes aware of an alert in a client environment, our security experts immediately spring into action. The alert is first reviewed and verified. Verified security incidents are communicated to clients via the Client Portal and by a predefined response plan. Based on the severity of the incident, client Points-of-Contact may receive an additional email, text message, or phone call. The Cyber Fusion Center team is staffed 24/7 and can be reached through the Client Portal or by a toll-free hotline.

What technologies are required for MDR?

Kudelski Security supports several industry-leading technologies in our MDR Services. Whether your organization already has a technology in-house or is looking for the right tool, we can help identify a security plan that best meets your organization's needs.

That said, Kudelski Security's MDR services are powered by a proprietary internal stack for IT infrastructure and Cloud, allowing the streamlining of technology and processes for clients. At Kudelski Security, we believe that methodologies are more important than a specific technology and are committed to ensuring that your organization is protected no matter what. Our highly-tailored approach is designed to the unique challenges and complexities that each organization has, and we believe that solutions should fit those needs. We provide MDR services through an outcome-driven approach; technologies come second to ensuring your security needs are met.
We're here to help.
Complete the form to talk with one of our security experts and learn how our award-winning security services can help you and your organization.