Managed Security Services
Reduce risk and secure your business transformation with a highly tailored managed security services (MSS) partner. Recognized as a Leader in The Forrester Wave™: Midsize MSSPs, Q3 2020 Report.


Reduce complexity, reduce risk, and maximize your security investments.
Partner with a managed security services provider who can adapt to your evolving needs and bridge the security knowledge and resource gap, 24×7.
Kudelski Security MSS reduces the complexity of managing security in a modern workplace. Delivered from our Cyber Fusion Centers, (CFC) services are personalized and based on a deep base-line knowledge of your context. We provide full threat visibility and data protection across endpoint, IT, cloud, and OT/ICS environments – delivering faster threat detection and more rapid response.
Talk to us
Our Approach to the Attack Kill Chain
Kudelski Security MSS Benefits
Find out how Kudelski Security differs from other managed security services providers.
Eliminate Cybersecurity Blind Spots

Complete threat visibility across all environments: on-premise, cloud, endpoints and OT/ICS.

Extend Your Security Team

We help you bridge the security talent gap, protecting your assets 24x7 with actionable advice and hands-on support.

Predict and Reduce Costs

Gain control of your budget with modular, predictable services – at a fraction of the in-house cost.

Grow Your Cyber Maturity

Mature your posture and demonstrate to the Board and C-Suite, a measurable reduction in risk.

Stay Informed - MSS Client Portal

Gain instant access to dashboards and all security activity, through an intuitive client portal.

Ensure compliance

Comply with regulations through a proactive approach to threat detection and response, tailored to your business and risk profile.
The Kudelski Security MSS Client Portal
Full-spectrum visibility and actionable advice on the threats that matter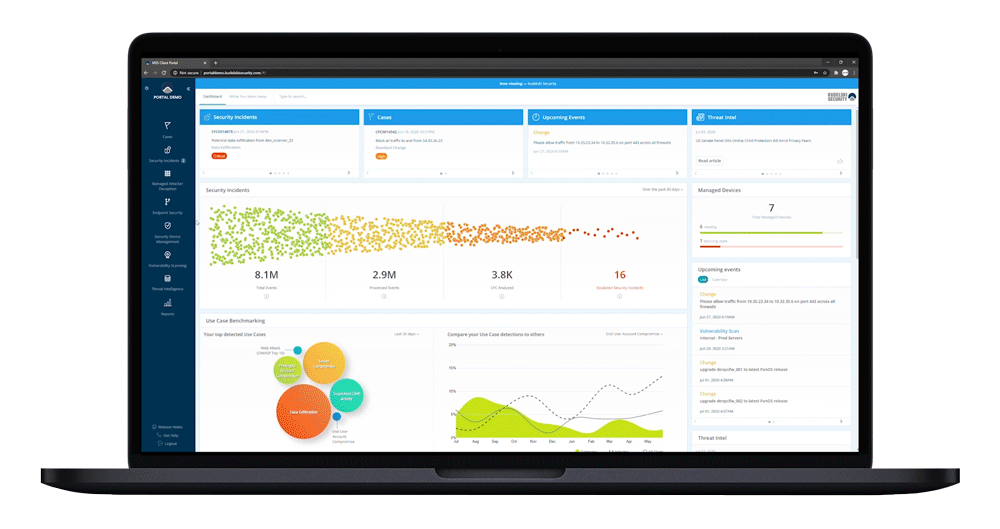 1

Eliminate Security Blind Spots

Gain visibility into threats across IT networks, endpoints, cloud, OT/ICS environments.

2

Avoid Alert Fatigue

Get actionable, prioritized advice to rapidly address the real threats.

3

Gain Control

Access a user-friendly portal for instant dashboards, reports, and metrics – 24x7.

4

Extend Your Team

Access our analysts at any time via the MSS Client Portal.

5

Respond Faster

We can detect advanced and unknown threats in minutes, not days.
Request a Demo
Frequently Asked Questions
What are Managed Security Services?

Managed Security Services are offerings by providers to support a client's security processes. These offerings can include a wide variety of services, from technology advising to incident response engagements to monitoring of security management tools, and everything in between.

What services are included in Kudelski Security's MSS offering?

The backbone of the Kudelski Security MSS offering is our Managed Detection and Response. Powered by our FusionDetect™ platform, we provide Managed Detection and Response services no matter where your data resides, whether it is in on-premises IT infrastructure, endpoints, Cloud, or OT/ICS environments. Coupled with our MDR services, our Cyber Fusion Center leverages industry-leading technologies and methodologies to gain insight into a full spectrum of threats and attacks on client environments. Managed Vulnerability Scanning, Solutions Engineering & Support, and 24/7 Incident Response retainers round out our MSS offerings.

How does the Cyber Fusion Center help support the MSS offering?

The Cyber Fusion Center – the bedrock of our Managed Security Services – is a next-generation Security Operations Center, staffed 24/7 by a team of highly capable security analysts, threat hunters, and incident responders. Our Cyber Fusion Centers located in Europe and the United States deliver unified visibility across technology landscapes: on premise, cloud, hybrid, OT/ICS. Leveraging proprietary and industry-leading technologies, threat and business intelligence, and proven methodologies, our team of experts help clients to respond to threats more effectively and reduce business risk.

What types of threat hunting do the Cyber Fusion Center analysts perform?

At Kudelski Security, we view Threat Hunting as an integral part of the monitoring and response service we provide to our clients. To ensure a full blanket of coverage, we hunt in three ways:

Structured: A set of use cases we monitor 24/7/365 for anomalies.
Targeted: Threats designed around noteworthy cases identified from client input, threat intel community alerts, or breaking-news events like WannaCry.
Creative: Our analysts are encouraged to design their own hunts around their hunches or intuition.

This flexible approach to threat hunting ensures our Cyber Fusion Center analysts are engaged, encouraged, and excited to find any potential hidden threats.

Why should I consider Kudelski Security over other MSSPs?

A good MSSP partner should be looking at the bigger picture when it comes to your organization's security. Through threat contextualization, your MSSP should be aiming to reduce breach impact and lessen the time to detection. By utilizing modern interfaces and a unique approach that is highly tailored to each client, Kudelski Security does not subscribe to the "one-size-fits-all" security method. We strongly believe that honesty and transparency are key to a successful relationship with your MSSP and are committed to providing that every day.

Does Kudelski Security work with other organizations in my industry?

Kudelski Security has experience across several industry verticals, including the Financial Services, Energy and Utilities, Government, Retail and Wholesale, Manufacturing, Software and Internet Services, and Healthcare Industry sectors.
What Our Clients Have to Say

"Kudelski Security offers true visibility into the threats that can impact us. They have also proven they can reduce detection time to just a few hours, enabling a proactive response against advanced attacks."

What Our Clients Have to Say

"With Kudelski Security on our team, we can now react faster to cyber-attacks. At the same time, we still retain ownership and control, since the comprehensive processes were defined together."
Awards and Recognitions
"Security leaders needing a high-touch, customized version of MDR and a vendor that blends MSS and MDR together seamlessly should engage with Kudelski Security."
– Forrester Wave™: Managed Detection & Response, Q1 2021
Strong Performer

Recognized by Forrester as a Strong Performer in their report, The Forrester Wave™: Managed Detection & Response

Q1 2021

Wave Leader

Recognized by Forrester as a Leader in their report, The Forrester Wave™: Midsize Managed Security Services Providers (MSSPs)

Q3 2020

Top MDR Vendor

Recognized 5 Consecutive times in Gartner's Market Guide for Managed  Detection & Response (MDR) Services

2021-2017
We're here to help.
Complete the form to talk with one of our security experts and learn how our award-winning security services can help you and your organization.